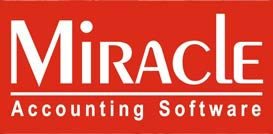 Live Software Support
Why Choose Miracle?
Ideal Accounting software must fulfill following requirements:
Easy to Use.
Flexible according to user's requirement.
Scalable from Accountant to Large Industries.
After sales service.
Timely upgrades according to States and Central Government rules and regulations.
Contemporary Advanced Technology.
Excellent after sales service, customizable entry and reports as well as timely upgrades are main reasons for popularity of Miracle accounting software.
It is suitable for Accountants, Traders, Dealers, Distributors and Manufacturers.